15 Ways to Grow Your Facebook Page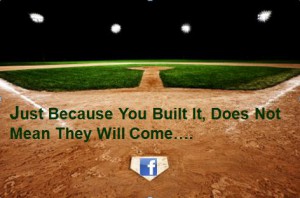 One of the most memorable lines in Movie, Field Of Dreams is that "voice" from the distance echoing "If you build it, he will come!" Well, that may be so with Kevin Costner's baseball field, but unfortunately it does not work like this with your Facebook Fan Page—we wish, right?
The two biggest mistakes I see that most businesses make once they have a Fan page… and frankly, the reasons why they're not getting results they had hoped for are:
1)  Not consistently updating their Facebook page (and with quality content)
2)  Not proactively implementing new ways to grow their fan base and build a loyal following
So to help out those businesses who are struggling to gain traction with their Facebook Page, I created these Two Video Tutorials for you BELOW.  I promise that if you take action and implement just a few of these strategies I share, they WILL come—and you will build your fan base!
Here is what you will learn in this video:
1)  Why Facebook Matters with 6 reasons a business needs to have a Facebook page. *Note there is a distinct difference between Facebook personal profiles, Facebook business Pages, and Facebook Groups.  Most people get this confused.  It is important that you first understand the basics and know the differences and benefits for all three Facebook platforms (profile, pages, & groups).
2) 15 specific ways to grow a large Facebook following and build an loyal fan Base
These are proven strategies that work. In fact, I just recently more than doubled my Facebook page in less than 72 hours just by applying 4 of these 15 techniques I am sharing with you now.   Watch this video below and see how you can catalyze the growth of your Facebook following!
Part I
[youtube]http://www.youtube.com/watch?v=HWez_CMx0bk[/youtube]
Part II
Was this helpful?  I hope you so—and that you will now implement for your own Facebook business page.    If you got true value here and that you feel your friends will benefit as well, I would appreciate if you could share with your friends on FB—and keep me posted on your results!  I'd love to hear your successes.
Now it's your turn.  Please share with us by commenting below if I missed anything—what other ninja strategies are using that are working for you?!
To your success!
Laura DeMeo
Join me today and get all my secrets in your inbox!